Where it all began
Believe it or not, the mattress has been around for almost 10,000 years. Maybe not the luxurious mattresses we know today, but a form of mattress was first invented in during the caveman period. These mattresses were mostly made of natural items – straw, leafs, grass covered with animal skin. Comfy, right?
The Persians were the ones to really innovate and improve upon the mattress and sleeping conditions. Persian royalty slept on the first water beds – goatskin filled with water. Ancient Egyptian Pharaohs raised the mattress off the ground by using pallets. King Tut had a bed base made from ebony and gold; while prettier, it was not any more comfortable than sleeping on the ground.
Fast forward to the late 18th century, mattresses more closely related to the modern mattresses we know today begin to emerge. Cast iron beds with cotton mattresses were found to be less attractive to bugs and made sleeping much more enjoyable. Bug free is the only way to sleep. In 1865, the first innerspring mattresses are introduced – the birth of the modern mattress. From there the inventions of the box spring, modern waterbeds, memory foam and latex mattresses all follow. All adding up to the mattress and sleep options we know and appreciate today. Read more at BetterSleep.org
Museums exhibits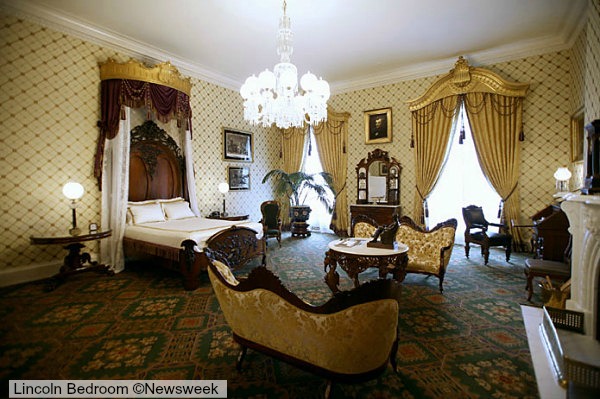 Want to learn more about how people have slept through the ages? Many museums have some examples of bedroom furniture (though some of it more closely resembles torture devices) throughout history. The Metropolitan Museum of Art in New York City has a collection of bedroom furniture, as well as design drawings of bed designs from all over the world and throughout history. The Frick Collection, also in New York City, has examples French, Italian, and English furniture of the Renaissance to the nineteenth century.
Perhaps the best places to see examples of beds is to visit historical home museums. The Palace of Versailles is an amazing example of ornate – and let's be honest, over-the-top opulent – 17th century bedding. Some of the beds are literally made of gold!
The White House is an excellent example of Victorian era bedding. The Lincoln Bedroom is most likely the best known room in the House, aside from the Oval Office. Although, Lincoln never actually slept there (it was a meeting room when he lived in the White House), the bedroom is said to be haunted by none other than President Lincoln himself and used as a guest bedroom for distinguished guests of the President and First Lady.
Now that we've given you the history of the mattress and bed, we'd love to help you shop for a new mattress. Here are a few articles to help you get started with your search: