Welcome to LA Mattress Store in Glendale, where your quest for the perfect mattress ends! We're all about making your mattress shopping experience extraordinary. Our team takes great pride in ensuring every customer leaves not just satisfied, but delighted with their perfect mattress choice. Our experienced and passionate experts are here to provide personalized guidance, helping you navigate our extensive selection of top-quality mattresses. At LA Mattress Store, we do more than just sell mattresses – we're committed to enhancing your sleep and overall well-being. Give us a call or drop by our Glendale store to find out why our customers keep coming back for their sleep solutions. We can't wait to help you discover the mattress that's just right for you!
Monday 10AM–9:00 PM
Tuesday 10AM–9:00 PM
Wednesday 10AM–9:00 PM
Thursday 10AM–9:00 PM
Friday 10AM–9:00 PM
Saturday 10AM–8:00 PM
Sunday 10AM–8:00 PM
Phone Number: (818)-275-6592
Address: 201 North Central Ave, Glendale, CA 91203
We've got your parking worries covered with free parking available both in the rear and under our complex. Simply enter from Wilson Ave and enjoy the convenience. We want your visit to be as stress-free as possible, starting right from when you park your car. Come on in and experience the ease and comfort of shopping with us!
Step into LA Mattress Store in Glendale and see why we're the community's favorite! We're thrilled to be the highest rated mattress store, thanks to our passion for quality, unwavering commitment to customer satisfaction, and personalized service that truly stands out. But hey, don't just take our word for it! We invite you to explore our thousands of glowing reviews on Yelp, Google, and Facebook. Each review is a story of how we've helped our customers find their perfect sleep solution. Come on in, meet our friendly expert team, and let us help you discover the mattress of your dreams. We can't wait to show you why we're Glendale's top choice for a great night's sleep!
WHAT CUSTOMERS ARE SAYING
Glendale, LA Mattress Store Reviews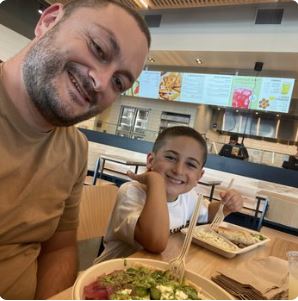 Very Helpful and Knowledgeable
Loved the professionalism of the place. The store manager, Carlos, is very helpful and knowledgeable. He guided us through our purchase by showing different options within the budget.
Bought a mattress from a different store two years ago and it was nothing like this. He told us what to look for and in no time we got the right one. Thank you Carlos. We love it.
Kind, Professional and Courteous
After going to several different mattress stores and not finding something to our liking, I looked online and saw that this company had a 4 month sleep trial, free delivery and a pillow included so decided to come here. Chuck gave us a great deal and we decided to think about it. We went to a few other places but nothing reasonably priced to our liking so we came back. This time Carlos helped us and he delivered great service, was efficient, and gave us a great deal. They delivered everything and quickly set it up and the delivery people were so kind, professional and courteous too!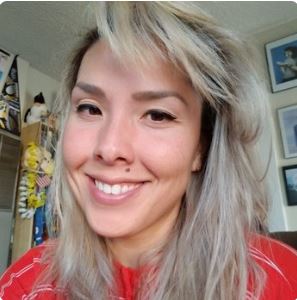 Find the Most Ideal Mattress
Went in the other day looking to upgrade my very old old Queen mattress. I spoke with Angela, let her know specifically what I was looking for, and she immediately directed me to 3 or 4 different choices they had available in store. She explained the differences in mattresses and didn't try to upsell or take me out of my price range, just tried to find the most ideal mattress for what I was looking for. The mattress arrived next day, and even though it is was just our first night sleeping on it, the difference was astronomical. I will definitely come back to LA Mattress next time I need to upgrade!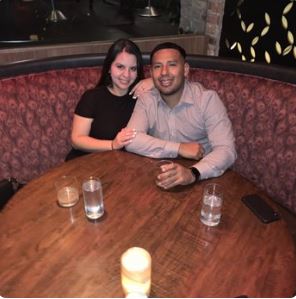 Nicest Mattress Store Ever
I went here today to buy a Mattress after looking for a mattress for a few day! CARLOS helped us and We were all absolutely amazed by his great Customer service, social skills, knowledge of the mattresses, and the benefits of each of them! He took his time to pinpoint all the mattresses that soothed our needs! Everything CARLOS said was very on point that we felt absolutely compelled to buy the mattress right on point and not look any further! I wish ever sales man could be like Carlos we need more well informed, nice, and sociable salesmen like him! I have already informed two of my family members to come to LA Mattress for the mattress needs! 100% RECOMMENDED!!!!! LOOK NO FURTHER!!CLEANEST AND NICEST MATTRESS STORE EVER!!
12 STEP REST TEST GUIDE
Your Ultimate Guide to Trying Mattresses at LA Mattress Store in Glendale, CA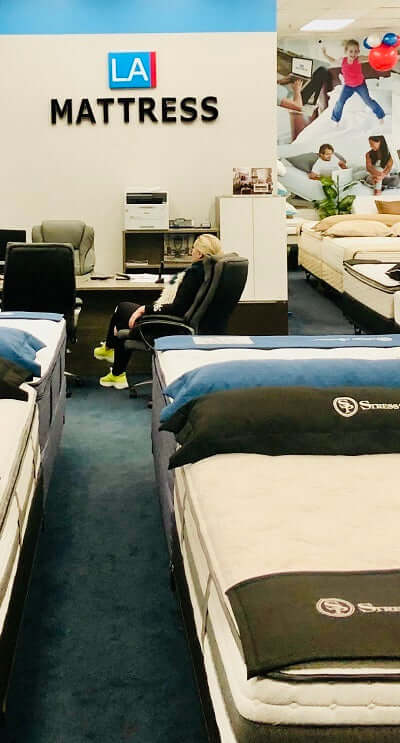 12 STEP REST TEST GUIDE
Your Ultimate Guide to Trying Mattresses at LA Mattress Store in Glendale, CA
Hello from LA Mattress Store! We know that shopping for a new mattress is a big decision that can greatly affect your sleep quality and overall well-being. To make your journey easier and more enjoyable, here are 12 key things to consider when you're looking for that perfect mattress in our store.
1. Find Your Perfect Firmness: We encourage you to test various firmness levels in our store to see what feels best for your body.
2. Choose the Right Size: We'll ensure the mattress fits your bed frame perfectly and offers ample space, especially if you're sharing the bed.
3. Test Mattresses in Our Store: Spend some time lying on our mattresses. We recommend at least 10-15 minutes to really get a feel for them.
4. Consider Motion Isolation: If you're sharing your bed, we'll show you mattresses that excel in minimizing movement transfer.
5. Learn About Sleep Trials: We offer sleep trials because we want you to be absolutely sure about your purchase.
6. Consider Mattress Height: We'll help you find a mattress with a height that's comfortable for you to get in and out of bed.
7. Match Your Sleeping Style: Are you a side, back, or stomach sleeper? We'll help you find a mattress that suits your preferred sleeping position.
8. Check Edge Support: If edge support is important to you, we'll point you to the mattresses that offer the best.
9. Understand the Warranty: We offer great warranties and will explain what they cover to give you peace of mind.
10. Think About Temperature Regulation: We have options like gel-infused foam for those who want a cooler sleep experience.
11 Get Expert Advice: Our team is here to answer all your questions and make recommendations based on your needs.
12. Trust Your Comfort: Ultimately, your comfort is our top priority. We'll guide you, but your personal preference is key.
At LA Mattress Store in Glendale, we're not just selling mattresses; we're crafting your personal haven for sleep. Pop into our store and let's find the mattress that makes you look forward to bedtime every night!
LA Mattress Store in Glendale, where exceptional quality meets unparalleled comfort! We're proud to showcase a range of top-tier mattress brands like Tempur-Pedic, Stearns & Foster, Sealy, Diamond, Eastman House, Englander, and Chattam and Wells, each renowned for their superior comfort and quality. But what really sets us apart is our impressive collection of high-quality alternatives to these well-known brands, ensuring you get the best value without ever compromising on quality. Our dedicated team is here to help you find the perfect mattress that fits both your budget and your sleep needs. Whether you're in the market for cutting-edge comfort or traditional support, we've got you covered. Come visit us in Glendale and see for yourself why LA Mattress Store is the preferred choice for those seeking the perfect blend of quality, comfort, and value.
From Twin to Full, Queen to King, California King, Split King, Split Queen or custom sizes like twin extra-long and full extra-long, your comfort is our top priority.
5 OTHER LA MATTRESS STORES
Best Mattress Stores in Los Angeles County
5 OTHER LA MATTRESS STORES
Best Mattress Stores in Los Angeles County
Here at LA Mattress Store, we truly believe that a mattress is so much more than just a purchase – it's a key investment in your health and happiness! Our friendly experts are passionate about getting to know your unique sleep needs. We're here to guide you through our wide range of high-quality mattresses, ensuring you find the perfect match. But our relationship doesn't end at the sale. We're committed to being your long-term sleep partners, offering ongoing support and advice whenever you need it.