Tempur-Pedic TEMPUR-LuxeBreeze® Medium Hybrid 13" Mattress
Experience the perfect balance of pressure relief and cooling comfort with the Tempur-Pedic Luxe Breeze Hybrid Medium 13" mattress. Here's why this mattress is a game-changer:

Pressure Relief: With a remarkable 9/10 rating for excellent pressure relief, this mattress keeps pressure consistent across the entire bed, alleviating aches, stiffness, pain, and sleep apnea.
Cooling Technology: The mattress incorporates temperature-regulating components and materials that draw heat away from the body, creating a cool and comfortable sleep surface.
Hybrid Technology: The combination of highly responsive Tempur-Pedic® support and pressure-relieving material, along with over 1,000 premium innersprings, delivers exceptional all-night comfort and support.
Motion Separation: The motion isolation provided by TEMPUR® Material reduces disturbances caused by partner movement, offering pressure relief and comfort for shoulders, hips, and back.
Support: With a 9/10 rating for excellent support, this mattress distributes your weight evenly across the mattress and maintains proper joint and spine alignment, reducing snoring, soreness, and sleep apnea.
Breathability: The breathable materials and SmartClimate® Cover regulate body temperature, preventing heat buildup and ensuring a cooler sleep experience.
Craftsmanship: Handcrafted with meticulous attention to detail, Tempur-Pedic guarantees the highest quality. The innovative TEMPUR® Material, developed by NASA, provides unmatched comfort.
Adjustable Base Friendly: Pairing this mattress with an adjustable base offers targeted support, reduces snoring, provides pain relief, and enhances comfort for activities like reading or watching TV.

Discover the Luxe Breeze Hybrid Medium 13" mattress and elevate your sleep experience to new heights of comfort and support.
The Tempur-Pedic Mattress comes in various sizes to accommodate your needs:

California King Mattress: 84 inches wide x 72 inches long
King Mattress: 76 inches wide x 80 inches long
Queen Mattress: 60 inches wide x 80 inches long
Full Mattress: 54 inches wide x 75 inches long
Twin XL Mattress: 39 inches wide x 80 inches long
Twin Mattress: 39 inches wide x 75 inches long

These dimensions ensure sufficient room for individuals or couples to sleep comfortably. Be it a roomy King or Queen size or a compact Full, Twin XL, or Twin size, the Tempur-Pedic mattress meets your requirements.

Moreover, you can select from different sets encompassing the mattress and corresponding foundation:

King Set
California King Set
Queen Set
Full Set
Twin XL Set
Twin Set

With these size options, discover the perfect match for your bedroom and experience a peaceful night's rest on the Tempur-Pedic Mattress.
Our comfort guarantee promises the optimal sleep experience. If your initial mattress choice doesn't satisfy you within 120 nights, contact us for a one-time comfort exchange. Your contentment is our priority. Details available here.
Shop at LA Mattress Store with confidence thanks to our 1-year price guarantee. If you discover a lower price at a local competitor*, we'll not only match it but also refund 50% of the price difference. Enjoy peace of mind for one year after purchase. See details here.
View full details
Add an additional description to your product option. Ex: Size guides, and other common questions.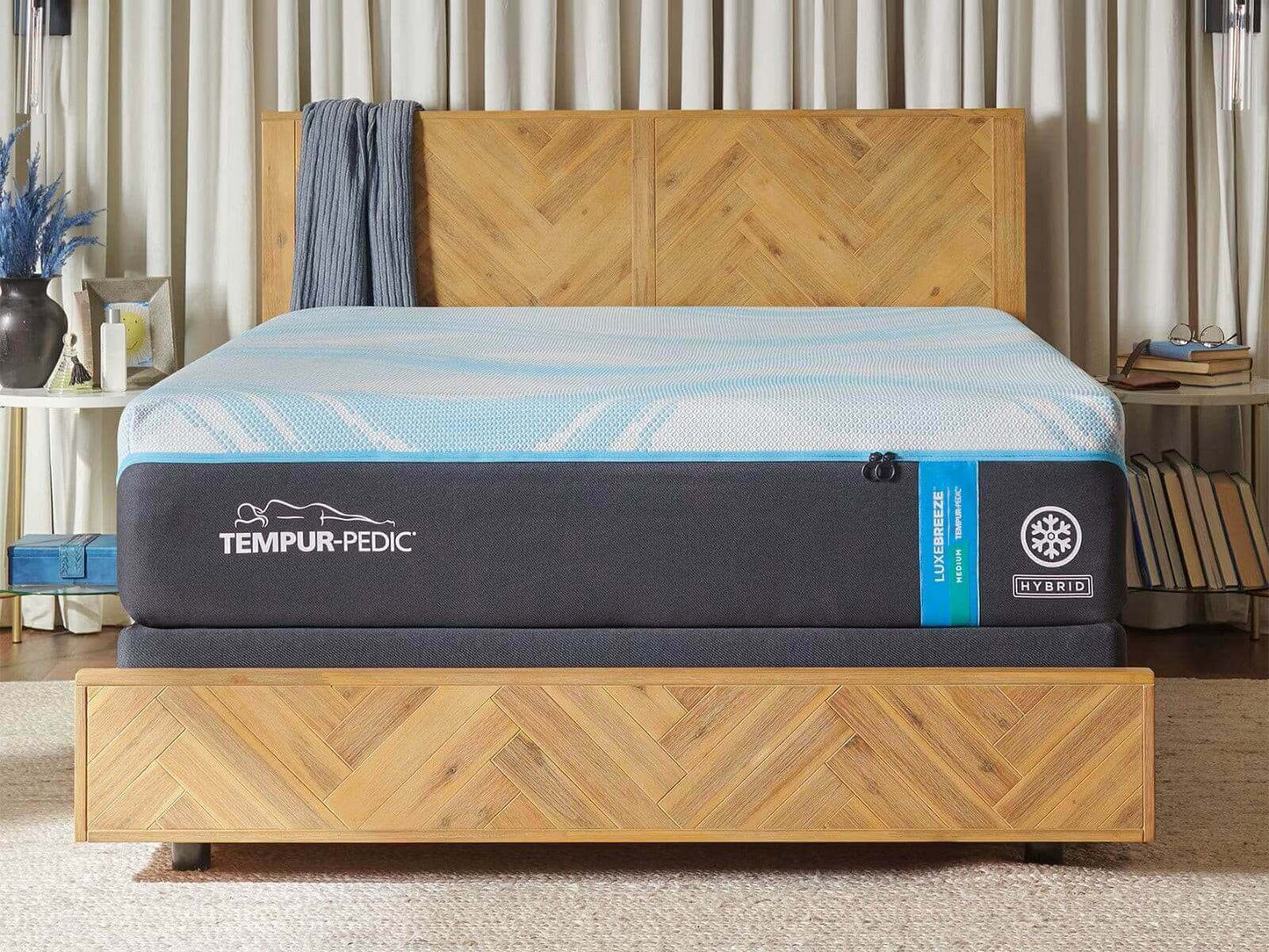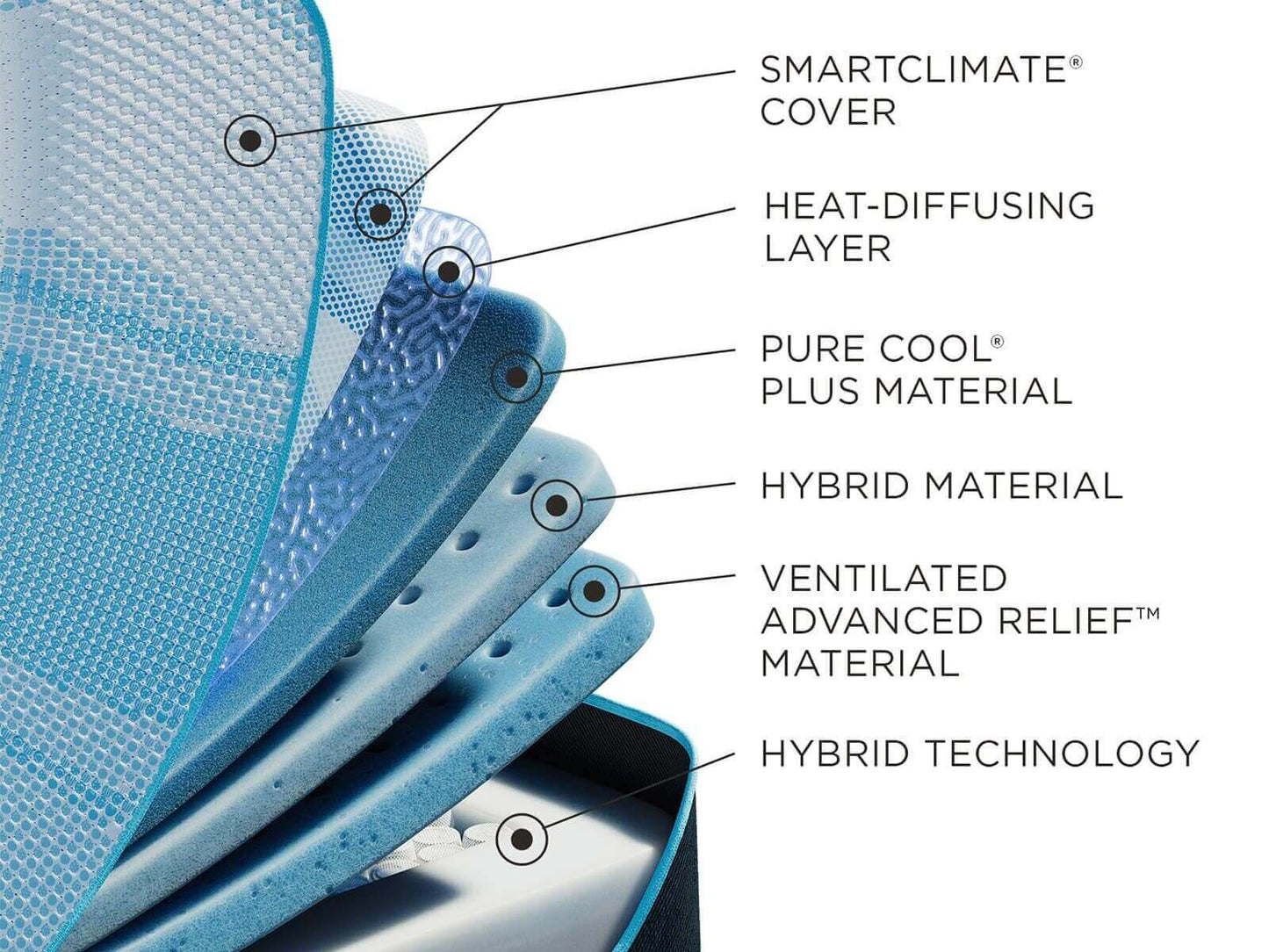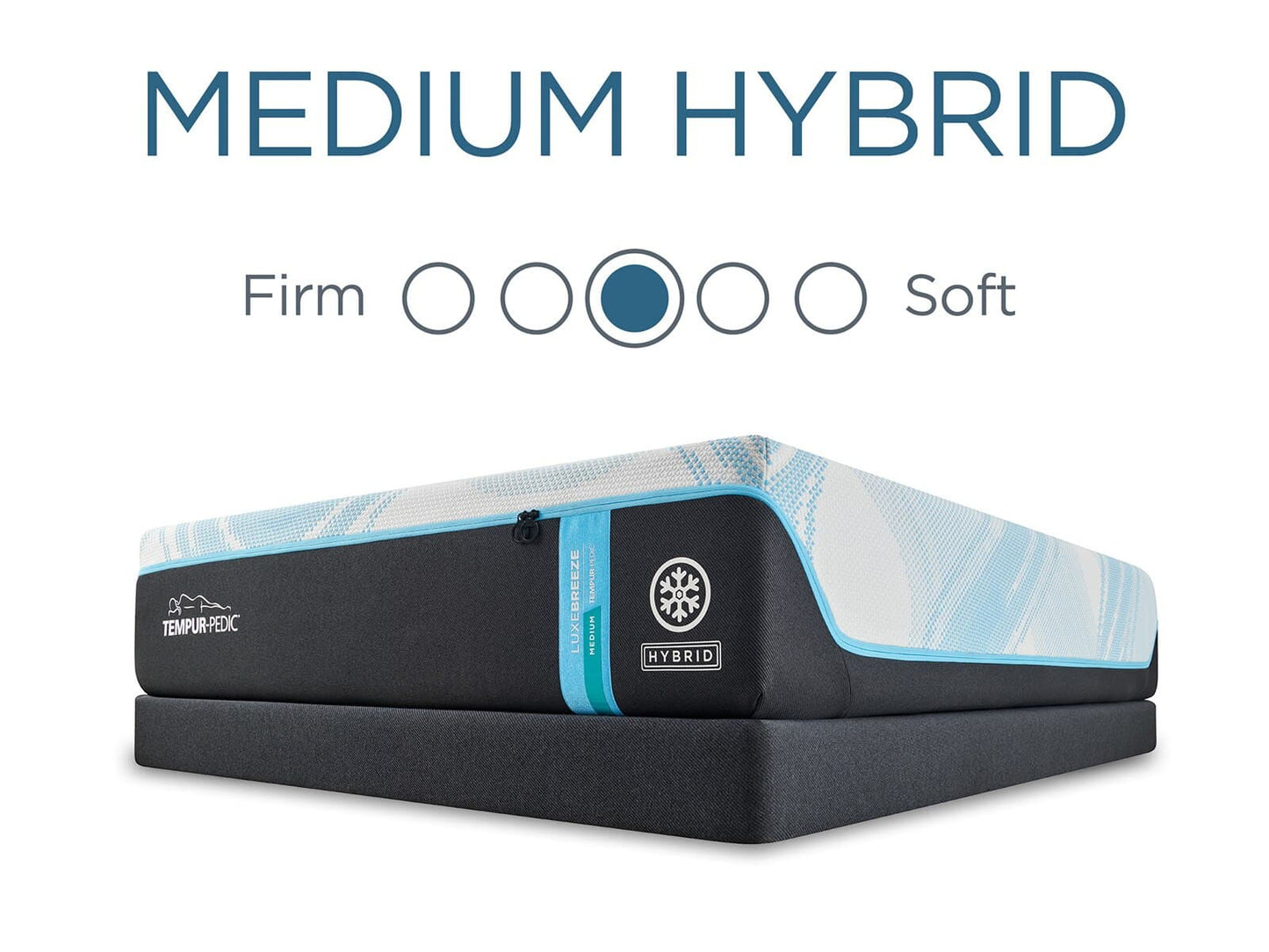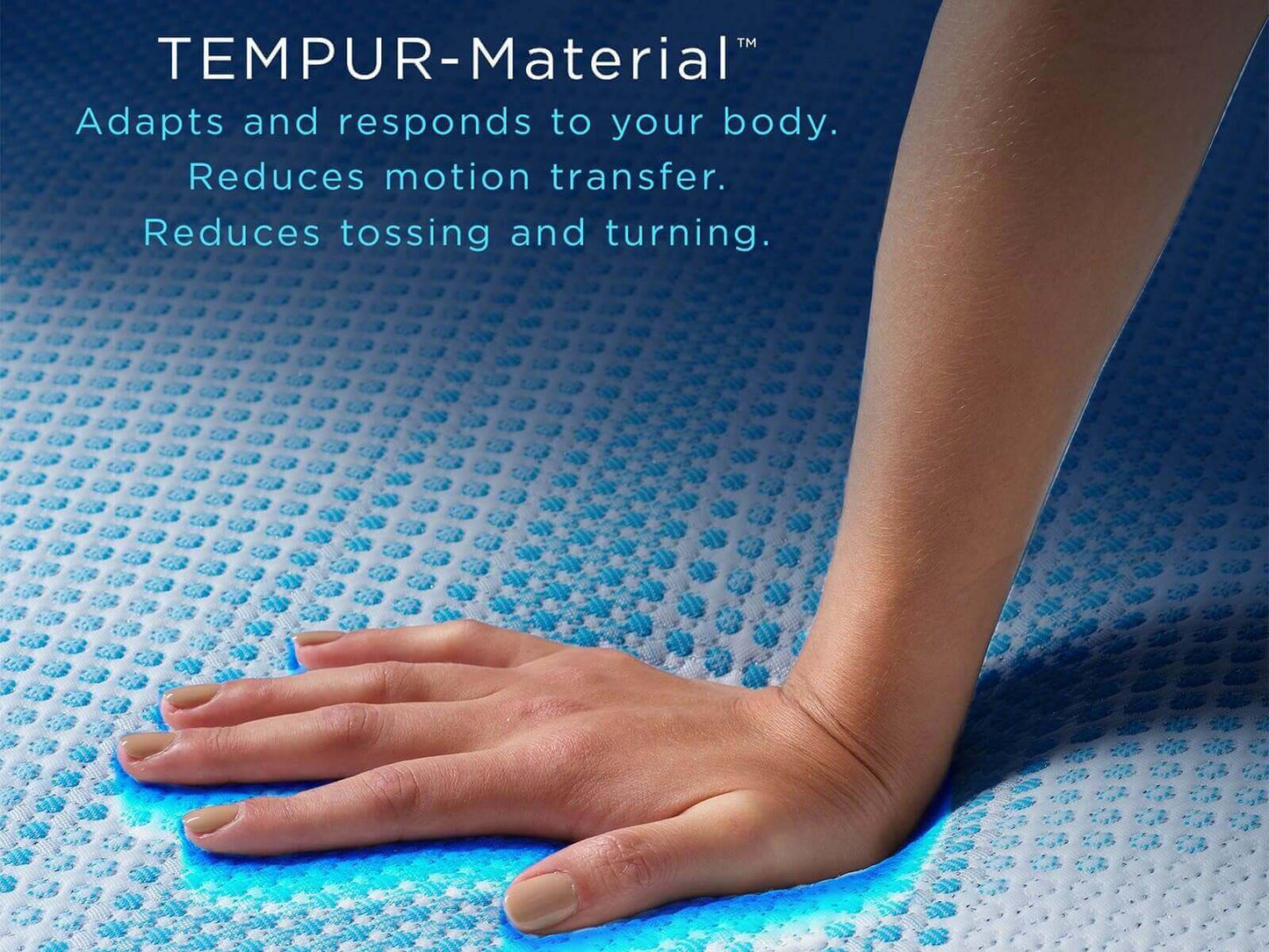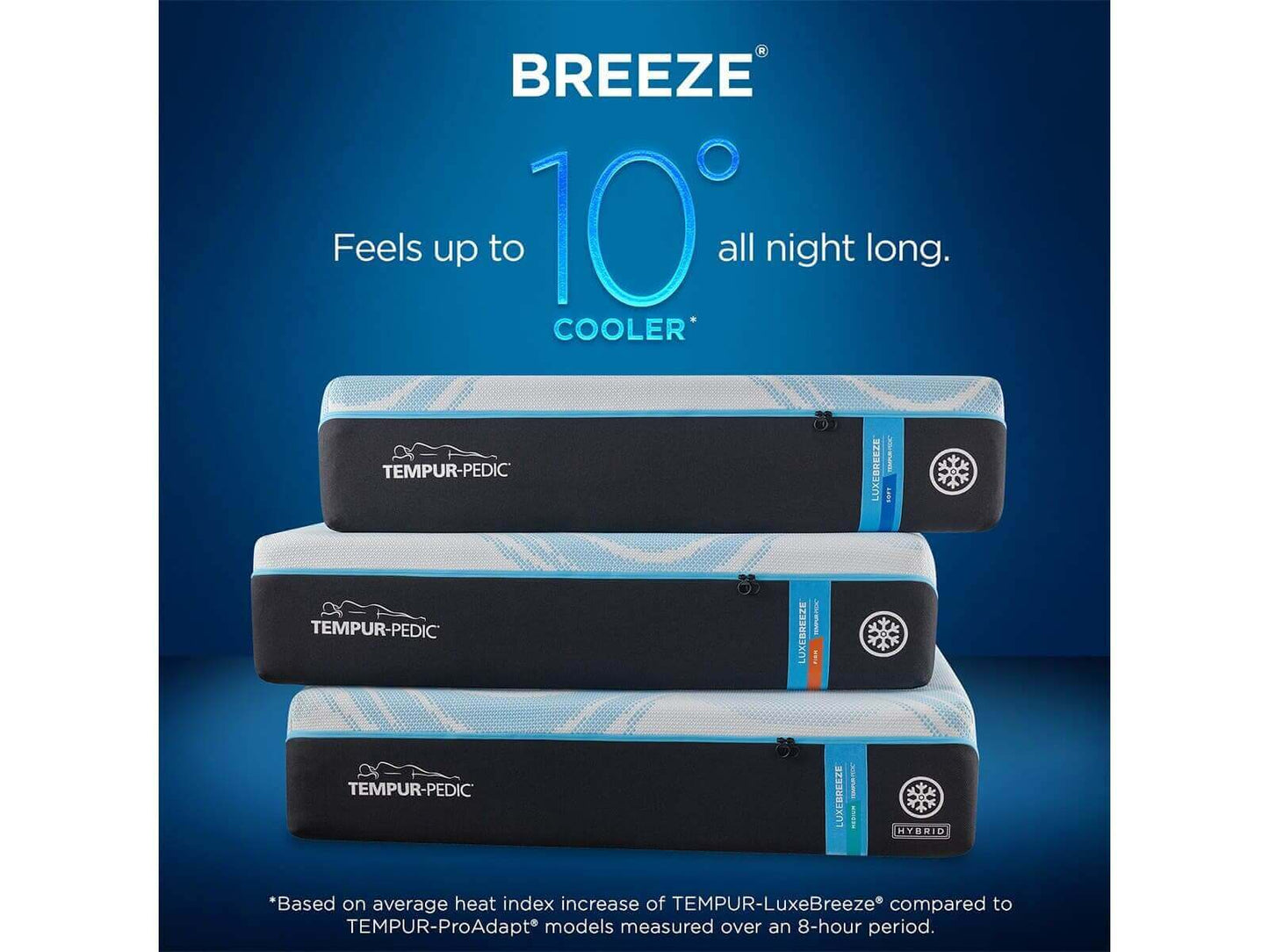 Tempur-Pedic TEMPUR-LuxeBreeze® Medium Hybrid 13" Mattress
For over 25 years, Tempur-Pedic® has been leading the charge in transforming the sleep industry, continuously pushing the boundaries to create the next generation of sleep-enhancing mattresses. Our goal is to ensure that every individual wakes up feeling more rejuvenated than ever, night after night after night. However, our mission extends beyond merely making better mattresses; it is about crafting an unparalleled sleep experience.

We understand that people's needs and preferences evolve over time, but one constant desire remains: the pursuit of the best sleep imaginable. This is why Tempur-Pedic® is dedicated to conceptualizing, designing, researching, building, testing, and retesting (and retesting again) with one key focus: you. We leave no room for compromise because for us, it's either transformative sleep or nothing at all.

What you truly desire is sleep that clears your mind, repairs your body, eliminates tossing and turning, and maintains a cool temperature throughout the night. This has been our unwavering goal for decades, and we will not rest until you experience it perfectly. It is this commitment to exceptional sleep that has led millions of individuals to choose Tempur-Pedic® as their go-to mattress night after night.

In fact, Tempur-Pedic® has proudly ranked first, number one, the best, and highest in customer satisfaction with mattresses purchased in-store for four consecutive years*. Additionally, an astonishing 95% of Tempur-Pedic® mattress owners would wholeheartedly recommend our mattresses**. This resounding endorsement is a testament to Tempur-Pedic®'s status as the compass of innovation, continuously challenging ourselves and others to truly revolutionize the way everyone sleeps.

At Tempur-Pedic®, we offer a sleep experience like no other. It is an embodiment of unparalleled comfort, support, and quality. It's not just a mattress; it's a Tempur-Pedic®—a symbol of innovation that strives to transform the way you sleep and elevate your overall well-being.

**Source: 2017 Tempur Sealy Brand Tracker.

Tempur-Pedic® ranked 1st/#1/Best/Highest in Customer Satisfaction with mattresses purchased in-store 4 Years in a Row
The 10-Year mattress warranty offered by Tempur-Pedic® ensures that if your mattress has a covered defect within a decade of purchase, we will replace or repair it. This warranty covers all components of the mattress. It is important to be aware that using an inappropriate foundation or causing physical damage will void the warranty. For more detailed information, you can refer to the full warranty details provided.
When selecting sheets for your Tempur-Pedic® mattress, most sheet sets will work well. However, it is essential to check the pocket depth of the fitted sheet to ensure proper coverage. For a guaranteed perfect fit, we offer our own sheet sets specifically designed for Tempur-Pedic mattresses. Enjoy a comfortable and snug sleep experience with our specially tailored sheet sets.
$300 in Goodies: Enhance Your Sleep Space after a $999+ Purchase!
Labor Day Sale: Here's some exciting news for you! After you've treated yourself to a purchase of $999 or more, a fantastic surprise awaits – a $300 gift certificate. This special treat lets you choose from a range of goodies like cozy sheets, fluffy pillows, waterproof mattress protectors, adjustable beds for that perfect position, and even some stylish furniture. It's like a bonus round of comfort and style after your big purchase. So, not only do you get a fantastic new mattress, but you also get to deck out your sleep space with extra goodies. Enjoy the rewards of your purchase in more ways than one!