Bedroom therapy is a beautiful thing for Jason & John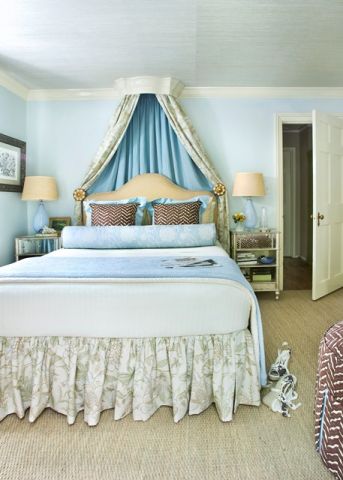 Our bedrooms are the envoys of lots of good things – sleeping, reading, canoodling with loved ones, getting better when we're sick … If we're not comfortable there, everything else in our lives can feel out of place.
As part of a new series – Bedroom Therapy – we're taking a peek at the inner sanctuaries of interior designers. When Jason Oliver Nixon and John Loecke, the Madcap Cottage Duo, invited us to tour of their beautiful bedroom, we were delighted. Madcap Cottage is a North Carolina-based interior design firm known for creations that reflect a deep-seated understanding of tradition amped-up with playful patterns and color.
Bedtime story?
When it comes to design, the Madcap Cottage gents begin every project with a story that helps define their clients' homes. Like all good bedtime stories, colorful and vibrant pictures help with the telling – and the tying it to the owners' heartstrings.
"Imagine Nick and Nora Charles of The Thin Man film series—martinis in hand, with Asta in tow—plunked down in the early twenty-first century," explained  Jason Oliver Nixon. "They would be our dream clients—sophisticated, witty, a bit irreverent and decidedly dashing."
Jason and John believe that the bedroom should be fun and "marvelous" and that beige should be banished.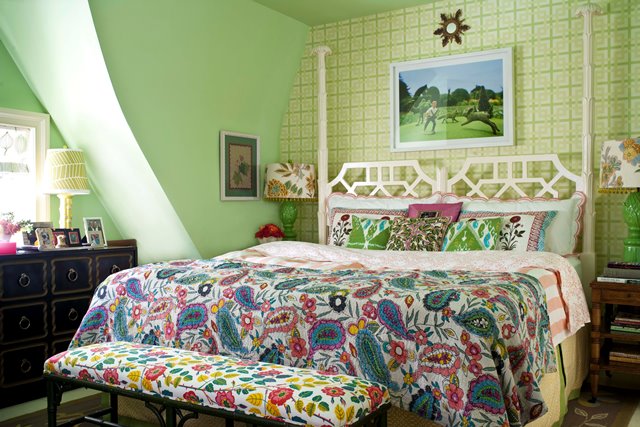 "We pair a sophisticated and yet extremely live-able and approachable point of view to every project we tackle—from a contemporary apartment in Manhattan to a Palm Beach-styled beach house in the Hamptons and a historic shotgun cottage in New Orleans."
Susan Crewe, the Editor in Chief of British House & Garden magazine says, "Madcap Cottage's designs are fastidiously executed and are a joyful antidote to the beige-and-mirror, bought-the-shop school of design."
Jason shared that while their personal style is constantly evolving, their current wallpaper is the piece de resistance in their bedroom. "We wake up feeling like we slept in a fabulous garden full of blowsy blossoms. What could be better than that?"
Creature comforts in the Madcap bedroom
Bedrooms are for so much more than just sleeping and the Madcap Cottage bedroom is very much a reading room and retreat as well as a sleep sanctuary. "We love a great comfortable chair and lots of good lighting so that we can read our huge selection of vintage design books in true style."
Jason's quick to point out that they've never entertained the idea of bringing a TV in their bedroom. "John and I read heaps of international design magazines, so we fall asleep with visions of the fabulous World of Interiors floating about in our heads," said Jason. "India, England, Morocco – we wake up refreshed with loads of ideas that we're ready to implement."
A new mattress, it's a glorious thing
Jason and John recently relocated from NYC to North Carolina and bought a new mattress to celebrate landing in their new home. "We are obsessed with good mattresses and obsessed with turning them every few months to keep them in tip-top shape."
They prefer a medium firm mattress and their sleeping style made us smile. "Jason sleeps on his back. John sleeps on his tummy. The dogs – Weenie, Amy Petunia and Jasper – fill in the empty spots."
We're always eager to know if people make their bed in the morning and why. And every designer we ask shares something truly unique. "We always make the bed," said Jason. "A good bed is next to godliness."