Making your nightstand functional and stylish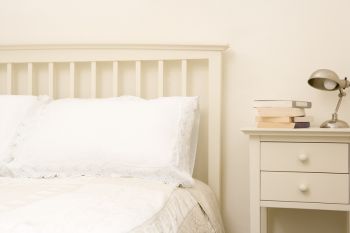 Your home is a reflection of your personal style. Of all the rooms, your bedroom tells the most about you – particularly what you keep on and in your nightstand. Perhaps your nightstand is treasure chest of drawers or maybe it's simply a stylish shelf attached to the wall. No matter what your nightstand is made of, it's important to keep it free of clutter while keeping it practical. Making your nightstand both functional and stylish can be a challenge though.
5 nightstand essentials
We understand that what you keep on your nightstand is personal but there are a few things we all need close at hand when day turns to night.
A lamp. Set the tone for a gentle wind down and wake up with a lamp beside your bed. Use a low-wattage bulb so your brain is woken up by bright light.
Toiletries. Hand lotion, lip balm and any medications you may need during the night will allow you fix simple issues without hunting through the bathroom medicine cabinet in the middle of the night. If you have young children, please take appropriate precautions.
Small dish/tray. Use a small dish or tray to help keep track of any jewelry or glasses you remove before bed. Also, this helps ensure you can find your glasses in the middle of the night should you need them.
Reading material. Whether it's a stack of magazines or the latest best seller, keeping reading material close by is helpful for those restless nights. Not to mention they make great decorations. Read more at TheEveryGirl.com
Flashlight. There's nothing worse than waking up in the middle of the night to use the restroom and discovering the power is out, right? Keep a flashlight close by to ensure you can always find your way safely.
Other items that can help make your nightstand a functional and stylish tool: an alarm clock, your phone, tissues, a glass of water, a candle and framed pictures of you and your loved ones. Or as in the case of my friend Megan and her dog – a framed picture of you and your beloved pet.
I'll be the first to admit I keep my favorite childhood stuffed animal on display on the bottom shelf of my nightstand.
So we have to ask, what do you keep on your nightstand?