How men & women sleep differently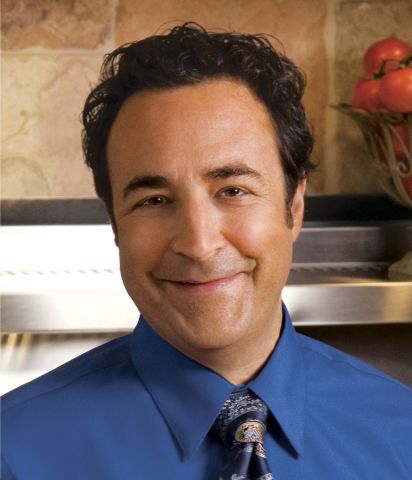 Sleep is a basic human need – but do men and women sleep differently? Does she need more sleep than him? She's still tired after 7 hours of sleep but he's revitalized and ready to take on the day. She's hot. He's not. There's still so much we don't know about sleep and how gender affects our ability to get a good night's sleep. But one thing we know for sure is that we all need it and when we don't get enough, we suffer.
This is part two in a three part series featuring Dr. John La Puma M.D. Read the other two:
Dr. La Puma specializes in helping people take control of their health and weight. He's a New York Times best-selling author, taught the first nutrition and cooking course for medical students in the US with Dr. Michael Roizen and has appeared on Dr. Oz, The Today Show, Good Morning America, Oprah.com, Martha Stewart radio to name just a few.
Competitive tiredness…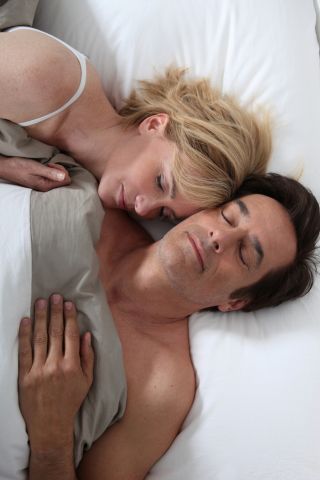 Arianna Huffington says sleep is the next feminist issue, stating that lack of sleep affects a woman's judgment, creativity and ability to realize her full potential. Men could argue that they suffer from sleep deprivation too and are more prone to sleep apnea at a younger age. But women have different struggles than men as they progress through monthly hormonal fluctuations as well as the hormonal challenges of pregnancy and menopause.
"Most adults need 7-9 hours of sleep each night but women need slightly more than men, "says Dr. La Puma. "We're so used to coping with sleep deprivation in our culture but men tend to power through their tiredness while women are more prone to depression."
In terms of gender differences, research suggests women get more sleep on average. But men wake up more during the night, perhaps because of their greater risk for obstructive sleep apnea.
For both sexes, we progress through different stages of sleep at night, allowing the brain to repair and ready itself for the next day. "Sleep lays the groundwork for the next day, planning and sorting through thoughts of the previous day while you sleep," says Dr. La Puma. "Think of sleep as your background day planner."
As we age, gender differences take a back seat to how our sleep responds to the natural aging process. Whether you're a man or a woman, insufficient sleep on a regular basis increases your risk of serious health issues like diabetes, depression and cardiovascular disease.
Help your partner with sleep deprivation
When it comes to sleep, there's one clear gender difference that doesn't change with age. When sleep issues arise between sleep partners, women are the ones to drag their partner to a certified sleep doctor first.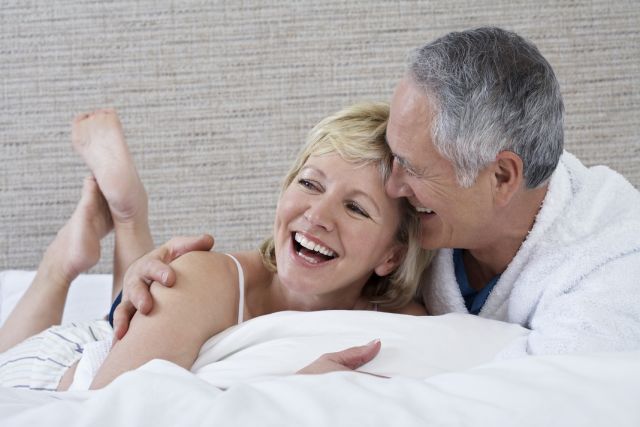 "Men's partners have a big role to play in helping with stress/sleep/weight management," says Dr. La Puma. "They don't have to have a medical degree to play the diagnostician."
Sleep partners can be the voice of reason when it comes to sleep issues because they're often the one lying awake, listening to the snoring and watching the clock. Dr. La Puma says they can help their partners figure this out by talking about medication, illness, sleep environment, too much stimulation in the bedroom (like TV or computer). From there, consulting a sleep doctor is an easier discussion because now both partners understand the frustration and the cause of it.
In part three of our series, we'll share Dr. La Puma's insights on the must-ask questions when your sleep doctor suggests medication.
If you're eager to learn more about Dr. La Puma, visit him online at DrLaPuma.com or catch up with him on Twitter, Facebook, LinkedIn and Google+.
Dr. La Puma, founder of ChefMD believes food can be the strongest of medicine. He says this toasted oatmeal breakfast is a wonderful way to start your day full and well-nourished. It's especially beneficial for people who have high cholesterol, because oatmeal contains beta-glucan, a fiber proven to lower cholesterol by as much as 23 percent.
Toasted Oatmeal with Double Mango & Toasted Walnuts
Reprinted with permission from ChefMD.com.
Preparation Time: 5 minutes
Cooking Time: 15 minutes
Servings: 4
Toasting rolled oats is one way to boost flavor without adding calories or unhealthy fats. Over-stirring the oatmeal changes the texture from smooth to too smooth and a little pasty. Just let the simmering milk do its job.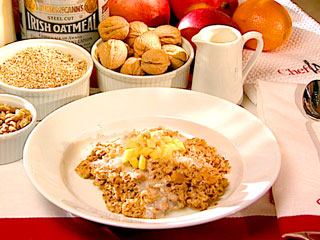 Ingredients
3 cups old-fashioned oats, uncooked
One-half cup coarsely chopped walnuts
4 cups skim milk or fat-free soy milk
One-half cup diced dried mango
One-quarter teaspoon salt
One-eighth teaspoon ground nutmeg
1 large ripe fresh mango, diced (2 cups)
Preparation
Heat oven to 400 degrees. Spread oats in a single layer on a jelly-roll pan. Place nuts on a small baking sheet. Bake oats and nuts 6 to 7 minutes or until lightly toasted. Set nuts and oats aside separately. Combine milk, dried mango, salt, and nutmeg in a medium saucepan; bring just to a simmer over high heat. Reduce heat to low; add toasted oats. Simmer 5 to 8 minutes or until thickened, stirring only once or twice. Transfer to four serving bowls; top with fresh mango and toasted nuts. Serve with additional milk, if desired.
Substitutions
Dried strawberries or golden raisins may replace dried mango; 2 cups sliced strawberries may replace fresh mango. Brazil nuts may replace walnuts. One-half teaspoon cinnamon may replace nutmeg. For a lighter, less aggressive flavor, use true cinnamon, sometimes called Ceylonese cinnamon, if you can find it.
Culinary Taste Tip
To quickly dice a mango, place the fruit firmly on a cutting board, point side down. Then cut away from you, and slice down until you reach the pit. Then, make quick cross hatches, and scoop out perfect cubes of mango!
Nutritional Analysis
Total fat (g) 17.5;Fat calories (kc) 158;Cholesterol (mg) 0;Saturated fat (g) 1.8;Polyunsaturated fat (g) 9.3;Monounsaturated fat (g) 4.1;Fiber (g) 9.3;Carbohydrates (g) 64.6;Sugar (g) 16.2;Protein (g) 20.7;Sodium (mg) 33;Calcium (mg) 61;Magnesium (mg) 176;Zinc (mg) 3.0;Selenium (mcg) 36;Potassium (mg) 793;Vitamin A (RE) 428;Beta-carotene (RE) 447;Vitamin C (mg) 29;Vitamin E (mg) 2.2;hiamin B1(mg) 0.;9;Riboflavin B2 (mg) 0.3;Niacin B3 (mg) 1.5;Vitamin B6 (mg) 0.40;Folic acid (mcg) 48