Designing an A-lister sleep space
Interior designers understand that a good night's sleep is the benchmark of success when decorating a bedroom. Trouble is, creating a slumber-worthy space for someone else can be tricky – even for a designer. Get ready for some steal-worthy ideas with Brandon Smith, founder and editor of DCoopMedia.
As part of a new series – Bedroom Therapy – we're snooping in the inner sanctuaries of interior designers and design enthusiasts. Brandon has been a designer for 14 years and his company, DCoopMedia focuses on spatial design with a specialty in interior architecture and technical spaces. He's highly creative, an insomniac and a night owl, which makes sleep a challenge – every night.
Styling a home with multi-layered passions
During his childhood, Brandon spent weekends antiquing with his mother. Being exposed to Victorian, Edwardian and Post-Industrial furnishings early in life, he learned to embrace his inner Victorian housewife.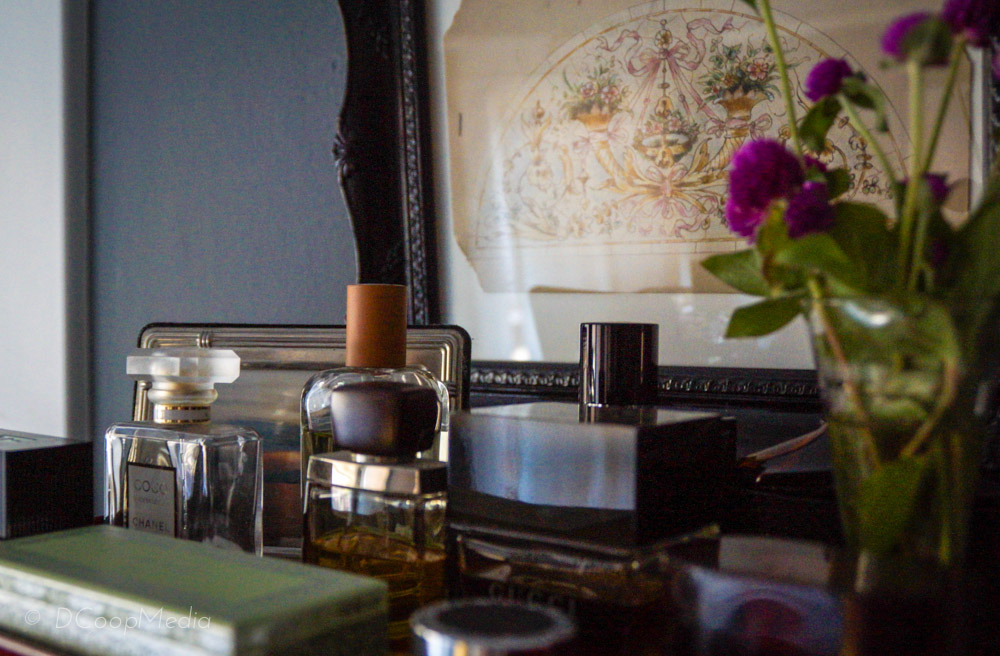 "My first home was stuffed with knick-knacks and I even went so far as to position my art so it looked like it hung from picture rails," quipped Brandon. "Now I live in a 100-year-old Craftsman bungalow with built-in leaded glass bookcases, an over-scaled mantle (with original glazed tiles) and a built in buffet. But because of space restrictions, I've been forced to pare down what I bring home and we now refer to our overall style as Early-Everything."
All kidding aside, Brandon now designs his home and bedroom with pieces that fit his personal style and complement his and his partner's story. He's shed the hand-me-downs and mass-marketed case goods in favor of an oversized Chesterfield sofa from Mitchell + Gold, handmade Windsor chair from Thos. Moser and an art-deco bed with a wraparound head board. "I've learned that I don't have to stick to just one style as long as I find pieces I love," he explained. "I've also learned that my over-active brain craves a less cluttered place at the end of the day to stretch out and dream."
A bedroom built for sleep and other stuff
Because of their vastly different sleep and work schedules, Brandon and his partner have a TV in their bedroom. While his partner dozes, Brandon watches Netflix, reads and responds to emails or pins his latest obsession on Pinterest. "Our bedroom is equal part office, lunchroom, and bedroom and I'll often lay on my bed in the middle of the day writing out to-do lists," he said. "I create better when I'm relaxed and lying on my bed lets my mind unfurl and follow the path to creativity."
Brandon's most prize possession happens to live in his bedroom as well – a piece of art by a Solana Beach artist. "Early in my freelance career I asked him if he'd loan a few of his larger pieces for a home show I was putting together. During the show, a local news station shot a segment in front of the artwork, giving the artist 2 full minutes of TV exposure. As a thank you, he left one of his pieces with me and it's been a constant reminder in the power of asking."
When it's time for sleep…
Brandon and his partner are big believers in dreamy, fluffy bedding and pillows. "I end each day tending to emails in bed and I start each one the same way," said Brandon. "If I wake up during the night (I'm a light sleeper), I have a tough time getting back to sleep. Being cocooned in comfort is not a luxury – it's a necessity."
Brandon's sleep-style mirrors his over-active, creative brain and says he's a "Let's see how much room I can take up in the bed" kind of sleeper. They sleep on a firm mattress with a pillow-top – a mattress they bought after staying at the Four Seasons in Santa Barbara.
But does he make his bed in the morning?
"Let's be honest, I try to make my bed in the mornings but the reality is that most of the time my bed is just a big pile of comforter and pillows. I blame part of that on my need to take disco naps throughout the day. But then again, a boy in media needs his rest!"