We can help with 3 ingredient breakfast solutions – delish!
Feel like you live in a Mother Goose book? Every time you open the cupboard doors – they're bare except for dog food. #OldMotherHubbardProblems. Story of my life! We know that breakfast is the most important meal of the day, thanks mom! But what do you do when you lack the ingredients? When you're rushing out the door to work and you're starving?
Let's face it, a granola bar and coffee doesn't always cut it. I would love to have a delicious and healthy breakfast, even something to take on the go, but I can never find time to grocery shop! Trolling the web I found breakfast recipes with just 3 ingredients and couldn't believe it.
We had to investigate – and fill our stomach.
Eggs Baked in Avocado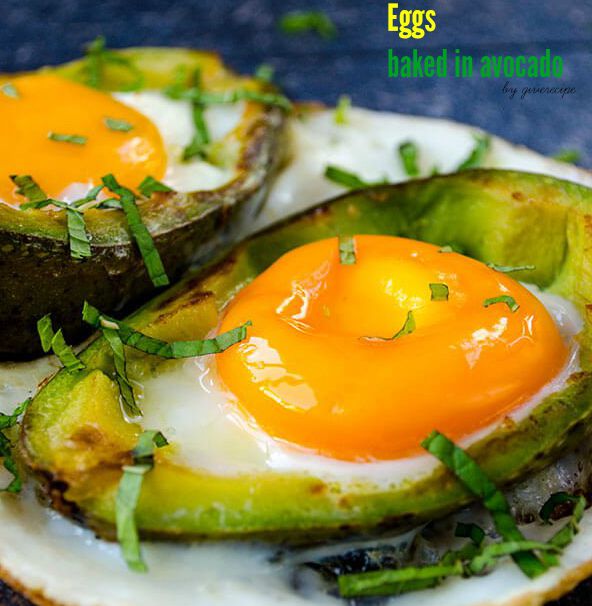 Ingredients
• 1 avocado
• 2 eggs
• 1 tsp. chopped mint leaves for garnish
• 1 tsp. olive oil
• 1/8 tsp. salt
Showtime
Rinse and cut the avocado in half and scoop out some of the flesh in the center so that there is enough room for the eggs to sit. You can serve that part alongside with the cooked eggs. Separate the yolks and whites. Put the whites in a bowl, yolks into two different bowls. Add salt into whites and mix well. Heat olive oil in a pan and sear the avocado halves, flesh side down for 15-20 seconds until a little golden. Flip them over and share the egg whites into each. Don't worry if they overflow. Put the lid on, turn the heat down and cook for 5-10 minutes until the whites inside avocados are set. Slide the yolks into the avocados over the whites. Put the lid on and cook for 2-3 minutes. You might see a thin white cover on the yolks, but they will go away and the yolks will look really shiny and yellow after about a minute. Garnish with chopped mint leaves and serve.
Banana Sushi

Ingredients
• 1 banana
• 2-3 tbsp. of nut/seed butter
• Preferred toppings such as chopped pistachios, dried coconut and chia seeds
Showtime
Peel your banana, on a baking sheet, evenly spread on nut butter, covering only the top half of your banana. Sprinkle on toppings and press them lightly into the nut butter to ensure they will stick. Using a sharp knife, evenly slice the banana. Place banana into the freezer and freeze for about an hour. After an hour, transfer to Tupperware (this is so the banana doesn't freeze to the baking sheet). 
Channel Orange

Ingredients
• 1 peeled naval orange
• 1 bell pepper (quartered, stem and seeds removed)
• 1 tbsp. coconut oil
• Optional: spice it up with cayenne pepper or ground cinnamon
Showtime
Rinse and place bell pepper, orange and coconut oil in blender. Blend until smooth. Enjoy a scrumptious – before work – smoothie! 
Hungry for more deliciousness in the morning? Feel free to investigate these delicious recipes:
• Super breakfast
• Breakfast in bed
• Sleep enhancing smoothies