Celebrate the first long weekend of summer with one of these drool-worthy recipes!
Memorial Day is almost here and we all know what that means. Not only do we get to take time out of our busy schedules to thank our veterans who sacrifice everything to keep us safe, we get to kick off summer's picnic and BBQ season. Talk about a perfect day!
While delicious is always at the top of the picnic-must-have list, we know you've got your eye on healthy too. After all, it's a long summer and you want to start it out energized and ready for all the excitement ahead. That means choosing ingredients that rev you with healthy energy during the day and don't stand in the way of a good night's sleep later, right?
We're betting our first Frisbee toss that these 6 drool-worthy recipes are going to please everyone on your invite list. And that you'll be happy to offer seconds to all, knowing that you're filing your family with healthy, wholesome food.
So, let's get cooking!
Green Goddess Veggie Dip Cups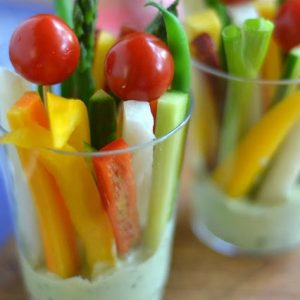 Uh oh. You've been put on appetizer duty, but you're not much of a cook. No worries, veggies-in-a-cup will fit the bill and make you look pretty darn impressive, too. This crowd pleaser is easy to make and a breeze to tote to your picnic. We've got a feeling that these brightly coloured crunchy cups are going to end up on regular rotation at your house.
Up the health factor– Swap out the Green Goddess dressing for hummus. This savoury middle-eastern dip is a source of tryptophan, an amino acid that helps relax you into sleep, making it a perfect bedtime snack too.
Root Beer Can Chicken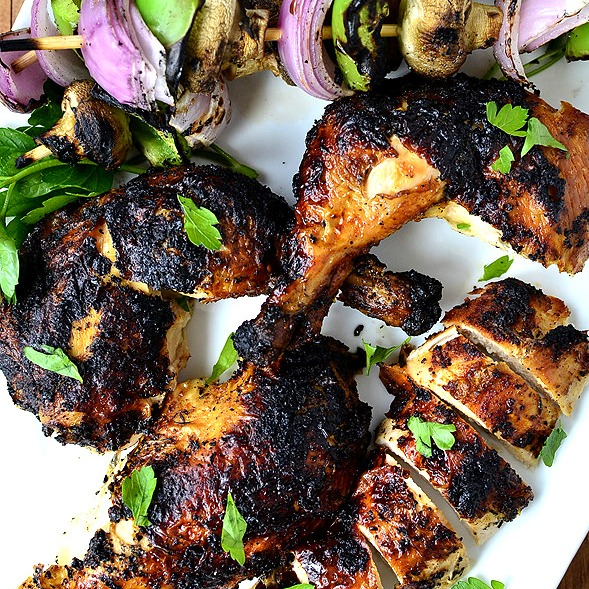 How about a new take on an old picnic standard? Yep, we're talking the chipper chicken. Breading and frying is so last year. Instead, try this super juicy and flavorful take on beer can chicken. A whole bird is rubbed with an assortment or aromatic spices then slow roasted on your grill atop – you got it – a can of root beer. This recipe is perfect both for BBQs and picnics alike and is an ideal make-ahead dish.
Up the health factor—Add cumin to your dry rub. This spice is rich in iron and manganese and is often used to manage insomnia. And we all know napping after a picnic lunch is the perfect picnic pastime.
Garlic-Herb Potato Salad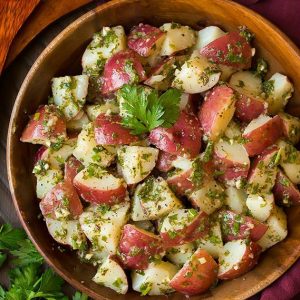 Tired of the same old potato salad? Lighten things up with this delicious new take on a traditional favorite. Ditch the mayo for a tangy garlic-herb vinaigrette and make prep easier with baby red skin potatoes (no peeling needed). Be prepared for this one to become a family favorite.
Up the health factor–  Throw some fresh basil into your herb dressing. Basil is known to alleviate stress, which in turn will make everyone happier.
Cold Broccoli Salad with Bacon & Cranberries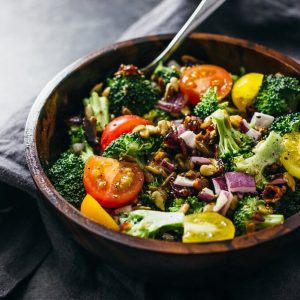 Your picnic won't be complete without a salad or two, but how much lettuce can one person eat? Everything's better with bacon, don't you agree? This healthy option takes broccoli to the next level with crispy bacon, dried cranberries, sunflower seeds, diced onions and mini heirloom tomatoes – all dressed with a light creamy dressing. Talk about a flavour explosion!
Up the health factor– Throw some chopped walnuts into the mix. It feels like they should already be in there already, doesn't it? Like turkey and hummus, walnuts contain that naturally healthy sleep remedy, tryptophan.
Red, White & Blue Cupcakes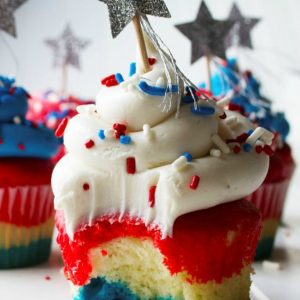 Don't forget the coordinating desserts. These fun cupcakes are the perfect way to show off your patriotic pride. Don't worry, these tri-color sweet treats are easier to make than you think – just add lots of love and a little time to boxed cake mix and you're ready to go!
Up the health factor– Enjoy a cup of relaxing chamomile herbal tea with your sweet treat and you'll be heading right for a nap. Why? Drinking Chamomile tea increases your levels of glycine, a natural chemical that acts as a mild sedative.
Strawberry Cheesecake Bars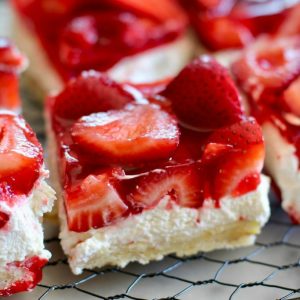 Your picnic menu wouldn't be complete without fruit. We love strawberries but they're best enjoyed when topping creamy cheesecake bars on a crunchy shortbread crust. Sweet, juicy and so delicious. Best to make extra because these treats are going to go fast.
Up the health factor– Strawberries (and other berries) contain vitamin B6 which kicks up the sleep-regulating hormone melatoninin high gear, making this the perfect bedtime snack any night.
Happy Memorial Day!