The Antique Diva designs a bedroom made for living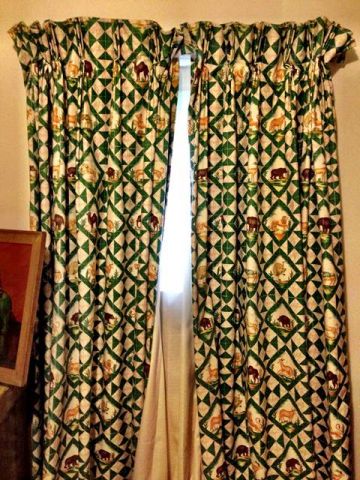 What's your idea of a perfect bedroom? At its core, a bedroom is simply a cozy space that invites rest and relaxation. How we design our bedrooms frames the start and finish of each day, our welcome and respite from the world's worries. For interior designers, the bedroom is a place to express design elements closest to their hearts.
As part of a new series – Bedroom Therapy – we're snooping in the inner sanctuaries of interior designers and design enthusiasts. Heather Vieira, the Antique Diva, spends her days scouring the world for antique art, furnishings and furniture and then finds these treasures new homes. "Each day is a history lesson and I become part of the antiquity of piece of furniture or work of art as it passes through time."
Heather and her husband recently moved their family from Philadelphia to Hingham MA. They spent their summer with their two young daughters, exploring the beaches, ice cream shops and state parks of South Shore. "My bedroom has never been such a welcome site for tired eyes."
Heather's bedroom retreat
Not surprisingly, Heather brings her work home with her, literally. In her bedroom, she embraces age-old Indian and Asian influences over a foundation of reds, greens, browns and gold. Her lined curtains – to allow for a dark sleep environment – feature an array of exotic animals set within a green trellis. An Asian-style table serves as a vanity and a hand-painted and gilt two-door cabinet holds extra blankets and pillows. "You can never have too many pillows," said Heather.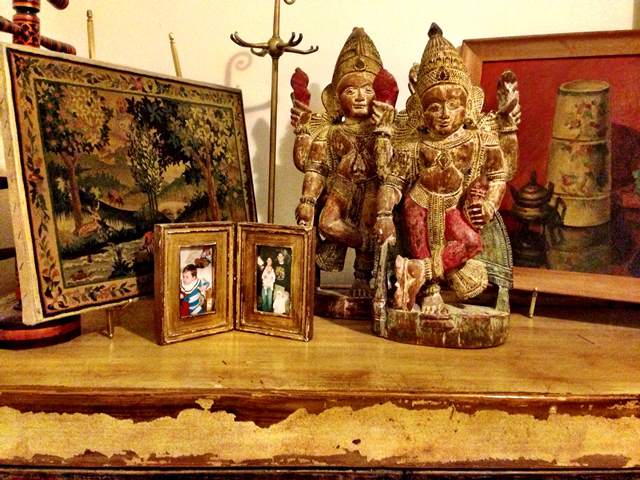 A true collector of historical artifacts, Heather prizes a custom double frame made by the Newcomb Macklin Company, circa 1950. "I had been in New York for three years when I found the frame at the 26th Street Chelsea flea market," she shared. "I had dreamed of specializing in antique and period picture frames and this frame reminds me of when I started selling to top galleries along Madison Avenue and throughout the Upper East Side. It now houses two family pictures taken just before we moved to Brazil."
Since 2009, Heather and her husband have moved six times and reinventing their bedroom each time is a high priority. From a loft bed in their tiny West Village apartment, to the wood paneled bedroom in their Rio de Janeiro apartment that overlooked the ocean and now to the charming Cape Cod style house in the South Shore – each sleeping space is unique. "But every bedroom we've slept in has been flush with personality and, of course, our sanctuary."
Hanging out with Mom & Dad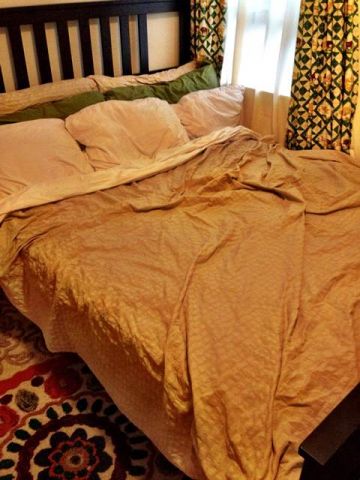 "With kids and dogs, our bedroom is the place to be first thing in the morning," explained Heather. "Puppy kisses and little girl giggles replace our alarm clock – we never allow electronics here – and we begin each day with big hugs and lots of laughs. On special occasions, it's the perfect spot for breakfast."
At the end of the day, Heather's bedroom is her sanctuary and she simply draws the drapes to the world. "Our bedroom is so peaceful and quiet, the perfect place to relax," she explained. "When it's dark, I don't need to distract myself with reading to let the day drift away."
Heather and her husband sleep best on a firm mattress with pillows all around them. "A firm mattress provides the support we need and the pillows make it super-soft."
Do the Vieira's make their bed in the morning? The answer's complicated. "Sometimes we make the bed but sometimes there's comfort into diving into a bed overflowing with a comforter and pillows," she mused. "Have I mentioned I love sleeping in a sea of pillows?"
Sweet dreams, Heather…