How will you bring the Christmas spirit into your bedroom?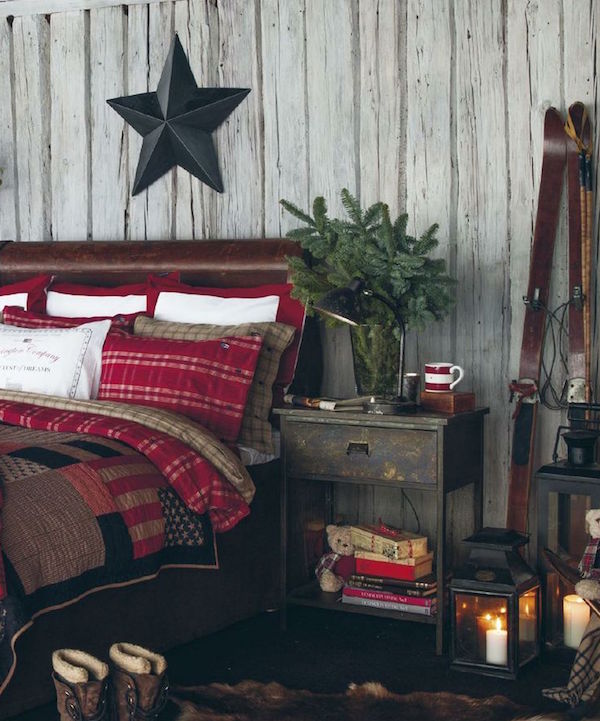 Your winter bedroom can be the coldest and coziest room of your home depending on how you choose to fill it with warmth. One of the best ways to warm it up is to bring Christmas decor, colors and rustic inspiration from the outdoors inside. Whether you love reminiscing about that ski trip to the mountains last winter or if you just love having beautiful nature around you, a rustic bedroom helps warm up your bedroom even if the weather is "frightful" outside. Take a look at these simple ways to transform your winter bedroom for a rustic Christmas season.
Mountain cabin ambiance & your bedroom
Ski lodges and mountain cabins are known for their rustic finishes of warm woods, dark metals and weathered floors and walls that have been touched by nature over the years. Bring this same aesthetic into your bedroom by adding distressed wood bedside tables, headboard and footboard and furniture to your bedroom. Nostalgic elements such as vintage skis, Americana decor and your favorite books can give your bedroom a cozy feel and a glimpse of history. For touches of greenery why not cut some fresh pine branches from your Christmas tree and hang a wreath above your bed for color and the delicious scent throughout your bedroom? I love how the Lexington Company in the above picture grouped a bunch of evergreen together in a vase in a rustic bouquet. 
Woodland animals and rustic decor for your bed
Your bed should be the focal point of your rustic bedroom and by layering neutral colors of heather gray, khaki and browns with accents of hunter green and holly red you can create a bed you can't wait to slip into. These deer and moose motif throw pillows are ideal to decorate your bed – just think how many other woodland themes there are! 
If you aren't a fan of animals, consider pinecones, snowflakes, snowmen and Christmas trees to add a whimsical touch to your bedroom linen set. Layer wool blankets, flannel sheets and bed spreads with plenty of mixing and matching of colors and patterns.  A colorful quilt can be used on the bed or as a wall hanging on your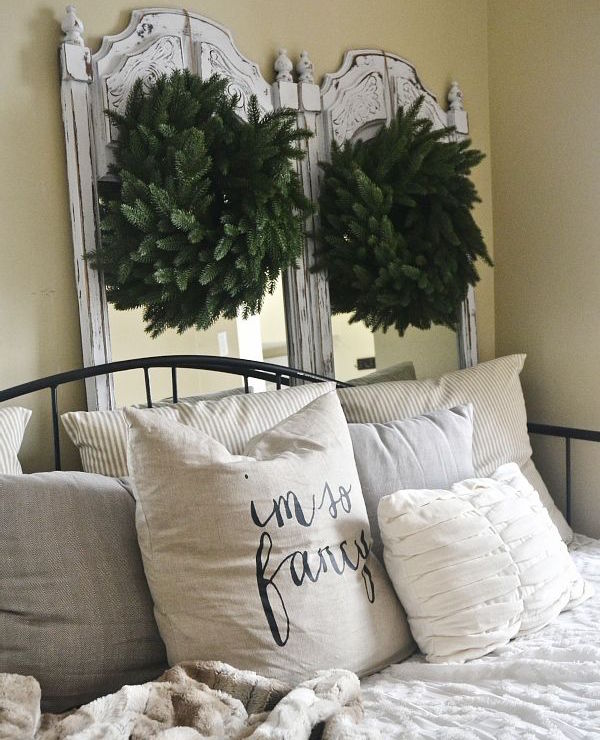 headboard wall as a focal point to your rustic bed throughout the season. Image via Liz Marie Blog
This holiday season bring the rustic outdoors into your bedroom with these simple ideas. For those of you that love to do it yourself why not print your own pillowcases or hang handmade evergreen wreaths from your headboard? There are so many ways to make your cozy bedroom feel like a rustic log cabin this season. Which of them will you try this holiday?